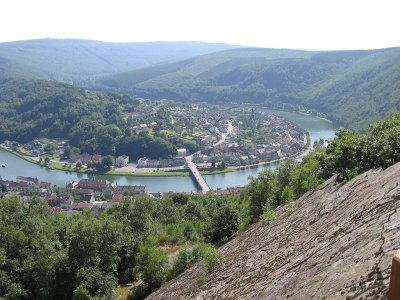 The French Ardennes
Lands of nature, history and heritage, the French Ardennes, where your Charleville-Mézières hotel is located, teem with activities and discoveries to do. Fans of history and heritage, you can visit more than 25 museums, marvel at the castle of Sedan, the largest in Europe, or go sightseeing from memory. Indeed, from the defeat of France at Sedan in 1870 to the famous German breakthrough of 1940, the Ardennes were marked by the three great conflicts (1870, 1914-1918, 1939-1945).
Your hotel in the heart of the French Ardennes
Nature lovers will not be left out either, by choosing to stay in our hotel Le Dormeur du Val ****. By bike, mountain bike, on foot or on horseback, nature is always breathtaking. Take a deep breath in the many nature reserves and treat yourself to a breath of fresh air in the Ardennes Regional Natural Park, which presents a camaieu of majestic landscapes: steep cliffs of Pointe de Givet, wooded meanders of the Meuse valleys and Semoy, peaty moors of the Rocroi Plateau or gentle wooded valleys of the Ardennes Thiérache.
Also discover the pretty little villages of Rocroi, Givet, Hierges, Mouzon, Monthermé and Wasigny. Or offer a small cruise on the Meuse, the Ardennes Canal or the East Canal.